Chinese GM Ju Wenjun successfully defended against challenger Lei Tingjie today, earning her fourth Women's World Champion title. Ju first won the championship in 2018, defeating Tan Zhongyi (who, incidentally, made it to the finals of the Women's Candidates tournament before losing to Lei.)
Ju and Lei were very evenly matched, with only ten rating points separating them, and this showed in the best-of-twelve match. They drew their first four games. Lei won convincingly in game five, pulling ahead by a point, and commentators Ju evened things up, winning in game eight, and from they drew every game until the dramatic final game, in which Ju overpowered her opponent in convincing style, securing her status as champion a fourth time.
Ju had selected Indian GM Pentala Harikrishna as her second, while Lei's second was Teimour Radjabov,. A second, for readers not familiar with this chess tradition, is an assistant to the player, who helps them develop novel ideas, analyze games, and strategize. Both seconds in this tournament have been among the top ten players in the world.
The prize fund for the top women 500,000 Euros, which was split 60/40 between the finalists. While this is still much less than is offered in the open World Championship, it is an improvement over earlier years, and a promising sign that the gap between open and women's tournaments is narrowing.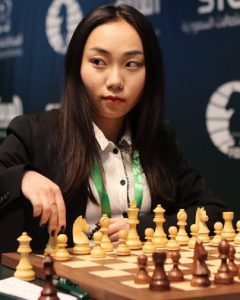 Unusually, the tournament was held in two different Chinese cities, Shanghai and Chongqing, giving both Ju and Lei a "home field" advantage.
After Ding Liren won the World Championship earlier this year, both the World Champion and the Women's World Champion are Chinese. The chess world is now seeing a huge rise in the number of strong players from India, following from Viswanathan Anand's world championship win in 2007.
Here is the final game of the match, where Ju secured her title once again, but we see that Lei was indeed a worthy opponent.